In December 2019 I volunteered at Association Mitsinjo as part of a larger research and conservation trip to Madagascar. During the three weeks in Andasibe I learned all about the amazing and interesting indri, helped with scientific research and got to know lots of lovely people.
Working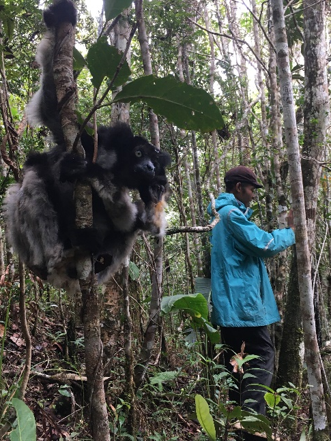 At Mitsinjo I helped set up the behavioural study on the indris and I taught the indri guides Andre and Regis how to do behavioural research and collect data. This meant that we had to follow around the indris in the Mitsinjo reserve every day.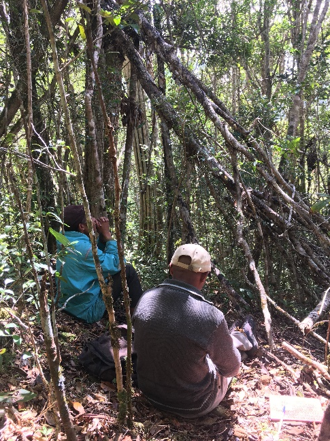 My day usually started around 5am, which sounds early but at that time it is already sunny outside and the village is buzzing with people. Breakfast at 5:30 and I left for the forest around 6. A lovely 20-min walk along the road from the guest house to the forest entrance (some days I was greeted by brown lemurs), where Andre or Regis would be waiting for me. We studied the family the entire day, writing down what they were doing or eating. We followed the family of indris from 7am to 4pm, which is the time the indris pick a tree to sleep in and get ready for bed. Staying until the indris prepare for the night means that it is easier to find them the next morning before they start travelling again which is around 7am. It means long days in the field, but when the indris are resting we rested as well and I truly enjoyed being in the dense tropical forest, hearing all the animals around me and looking at and learning about the indri. When indris were resting we also used that time to get to know each other and I learned a lot of Malagasy during those sleeping bouts.
Living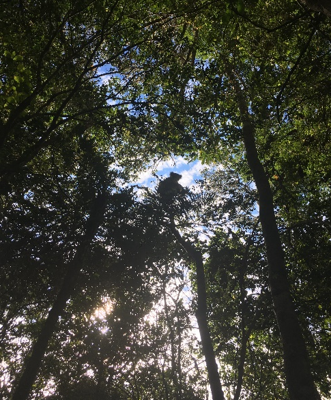 While working at Association Mitsinjo I stayed at Alain's guest house (Tsierena Guest House), which is the main location where researchers and volunteers and sometimes tourists can stay. It has many rooms of different sizes, from 2-person bedrooms to rooms with multiple bunkbeds, some have private bathrooms and other are shared. There is WiFi, filter water to drink and a living/dining room with a kitchen. Alain works together with Association Mitsinjo so knows how everything works and has close contact with Rainer and Tiana from Mitsinjo. Dede the cook makes the most amazing and varied food, which is always super tasty. I had brought my own breakfast (oatmeal with peanut butter and peanuts) as I preferred that over rice or eggs, but Dede made my lunch and dinner usually. He was even able to prepare my lunch when I went to the field, which required him to get up at 5am to cook so I could take my lunch when I left at 6am.
The guest house is in Andasibe, which is a lovely little village and is about 2km (1.3mi) from the reserve and Mitsinjo office. Andasibe has some shops where you can get souvenirs made by locals, snacks and non-market foods such as chips, chocolate or yoghurt or if you need a notebooks and pens. There is also a little electronics shop where I got my watch fixed, which was amazing.
Travelling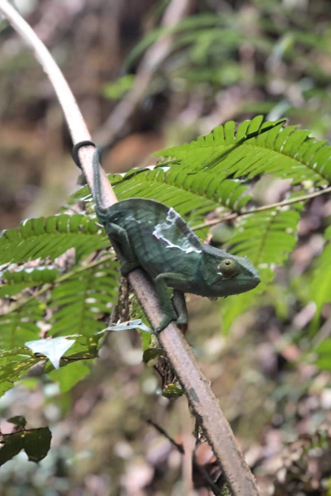 During my free time I visited VOIMMA community park, a small reserve close to Andasibe also managed by locals. We also went to Vakona Private reserve, which has an amazing restaurant where we celebrated one of the researchers birthdays. This reserve has a sort of zooish type place called Lemur Island and holds multiple lemur species, but also crocodiles and fossas.
There are two big national parks namely the Andasibe and Mantadia national park where you can do lovely (multi-day) hikes and there is a bigger chance you can see the diademed sifaka.
Association Mitsinjo itself often has a lot going on. For example, I was invited to join the education team and go to some schools in the area. They also have night hikes (the only ones in the area) which gives you a chance to see interesting reptiles such as chameleons or geckos.
Tips
It's a tropical rainforest, so bring waterproof clothing and gear (I even brought an umbrella which came in handy)
There are many mosquitos and the occasional leech, so bringing good protection is important
Items like Tupperware (for field lunches), binoculars, a sitting pad are good to bring with you in the field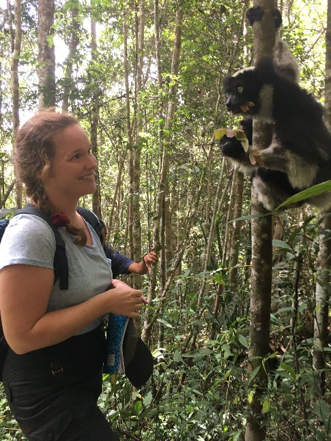 A torch and portable charger are convenient when the electricity goes out, which happens more often than you think
People always appreciate it when you bring some treats from your own country and it's a great conversation starter!
Locals are sometimes very poor, I brought some supplies from home to give to people here. For example, second hand clothing, school supplies or old cell phones. The international flight often allows 2x23kg bags, so you'll probably have some space left to fill up with this stuff.
If you have any questions, please feel free to contact me at marloesleeflang@gmail.com